This one of a kind studio is filled with light and positive energy and caters to a broad range of clientele. You'll be filled with pure gratitude and relaxation while elevating your physical, mental, and emotional well being. We provide everything your mind and body could possibly need. Welcome home to Reichert Pilates in Summerville- we look forward seeing you soon.
Daniela Reichert was born and raised in Germany, later worked in Marbella, Spain before moving to Charleston. She is fluent in German, Spanish and English.
Daniela discovered Pilates after suffering years from chronic back and neck pain caused by a severe Scoliosis. Experiencing the amazing benefits of Pilates on her own body she wanted to learn more.

Daniela has worked and helped clients for over 10 years. Her knowledge, patience, expertise and positive energy are felt in every one of her classes. Her main goal is to provide a custom tailored class especially prepared for each individual client. She has always loved the versatility of Pilates: from working with athletes or children conducting a powerful, challenging and fun workout, to all kind of clients and seniors, knowing exactly how to adapt a class for people with various injuries or other physical limitations.
She loves helping people suffering or recovering from injuries or operations and works closely with established physiotherapist, rolfers, acupuncturists, chiropractors and massage therapists in the local area.
Daniela has completed two comprehensive Pilates courses (Mat, Apparatus, Props and Specialties) with over 1000 credit hours as well as a Personal Trainer Course with specialties in rehabilitation and nutrition.
She has worked in Europe and USA, as a Personal Trainer, Master Pilates Instructor, in several hospitals and various Pilates Studios before opening her own studio. She is now happy to offer a variety of services including Reformer classes, Mat Pilates, Pilates Barre and more, to help all of our clients achieve healthier bodies and minds.
Kimberly graduated from Indiana University School of Medicine with a degree in Occupational Therapy in 1996. She has a vast array of experience in all rehabilitation settings and ages. She has specialized in orthopedic and hand and upper extremity rehab, including conducting worksite and ergonomic evaluations, functional capacity evaluations, and industrial rehab. Kimberly also has worked as a hand therapist, and in inpatient and outpatient settings seeing patients pre- and postoperatively for spine surgeries, shoulder and cumulative trauma injuries, as well as conditioning and specialized rehab for numerous neurological and physical dysfunction diagnoses from stroke to flexor tendon repairs, carpal tunnel, and rotator cuff surgery and rehab. Kimberly has also completed numerous continuing education courses including nutrition, pain management techniques, myofascial treatment, and numerous physical dysfunction courses and CE's. She has been passionate about health and fitness ever since she can remember. After moving to Charleston in 2000, she completed an athletic training certification and Pilates certification in 2004. She started a Pilates program at St, Francis hospital for employee wellness teaching Pilates to nurses and staff.
Kimberly has personally experienced health issues from autoimmune disease to a traumatic brain injury (TBI) from a severe accident with resultant neck injury and dysfunction. Having dealt with severe pain, she found Pilates to personally be her primary source of exercise for pain relief, gaining muscle strength, endurance, range of motion, and postural retraining to carryover to maximize her level of function in everyday activities.
Falling in love with Pilates' unique full-body techniques and mind body awareness, has led to her combining her occupational therapy, athletic training, and Pilates training to provide comprehensive, fully engaging, and individualized workouts! Kimberly enjoys working with people of all levels and ages to help them safely achieve their fitness goals and maximize their health.
Pamela O'Briant is a native of Rhode Island. She holds a Bachelor of Arts in Ballet with a teaching certificate from Virginia Intermont College. After dancing with a ballet company in Michigan, she moved to Charleston to dance with Charleston Ballet Theater. In 1992, she left the ballet company and was searching for a way to stay in shape and tried Pilates. Pam was hooked.

In 1994, she trained to teach with Bodyworks in Durham, NC. Pamela joined the team at Earthling Day Spa and started working in a Pilates Studio in Mt. Pleasant, SC since 1996.

Wanting to further her knowledge, she completed a comprehensive certification with Polestar Pilates in Miami, Florida in 2001. Her certification is in Pilates for post rehabilitation.

Dedicated to continually learning, Pam has attended many workshops and conferences with well known teachers, such as: Elizabeth Larkam, Karen Sanzo, Michele Larsson, Karen Clippinger, Raymond Kurshals, Brent Anderson, Julian Littleford, Rael Isacowitz and Sherri Betz.

In addition to teaching Pilates, she is an adjunct professor at the College of Charleston in the Theater and Dance Department where she teaches Ballet and Modern Dance. Pamela was also certified in Gyrotonic® Expansion System in 2004. She believes "Movement is Medicine".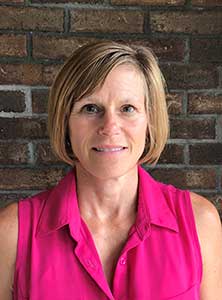 Laura is a traditionally trained orthopedic/manual therapist, a graduate of the University of Tennessee Medical School, and a former assistant professor at the University of Central Arkansas. In total, she has practiced for over 25 years in clinical settings, most recently as Director of a Summerville ATI clinic. 
Nearly 10 years ago Laura was introduced to Pilates' based strength training to recover from running injuries. She has applied many of these learned techniques on herself and in clinical setting with many of her patients. 
Pilates provides results for complete, systematic, and neurological strengthening that physical therapy alone couldn't replicate. She became certified to teach Mat Pilates 5 years ago in 2013. Laura enjoys running, tennis, and traditional weight lifting.
She has discovered the basis to longevity in her training is to have core stability for outward mobility. Her goal in physical therapy and with Pilates is to improve patient fitness and improve quality of life.
Kelley Johnson has been a Pilates enthusiast for over 15 years. She began taking classes as a way to complement her tennis playing and alleviate the pain that comes from playing a high-impact sport. She soon learned that strengthening your core could reduce the pain in muscles that we use too much, and that Pilates can help you avoid injury.
Upon moving to Belgium in 2007, Kelley obtained her Certification in Classic Pilates MAT Levels 1,2, and 3. She enjoyed teaching both private and group mat classes while in Belgium, and continued to train on the Pilates machines at her local studio. She is also Balanced Body certified.

Kelley loves the fact that a good Pilates routine can almost always be adapted to anyone, regardless of age, ability, or injury. The small-class set up at Reichert Pilates is a perfect place to introduce you to Pilates. Kelley would love to help you improve your body function with a hands-on style of instruction. She speaks English and French.
The small-class set up at Reichert Pilates is a perfect place to introduce you to Pilates. Kelley would love to help you improve your body function with a hands-on style of MAT instruction. She speaks English and French.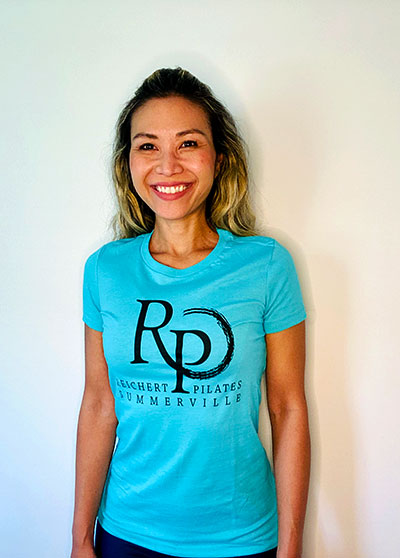 Caryl Porte Laborde is a Los Angeles native who discovered her love for Mat Pilates in the early 2000's while residing in San Francisco.
After living in France and Switzerland, she returned to Los Angeles in 2012 where she discovered Reformer Pilates, when a close friend opened her own studio. 
Caryl moved to Charleston, SC with her husband and son in 2018 and completed her Reformer training with Balanced Body.
She loves Pilates and has learned from instructors ranging from classical training (Romana) to more contemporary such as Balanced Body, BASI, and Stott.
Due to these influences, Caryl likes to switch up her classes – sometimes classical, sometimes dynamic- depending on the clients needs. She is a member of Pilates Method Alliance and a TRX certified instructor. Besides Pilates, Caryl's passion is traveling and learning new languages. 
Harry has been working as a physical therapist and performance coach for the past 15 years.  As a therapist Harry has been able to help people recover from chronic overuse injuries.  Prior to becoming a therapist Harry worked as an exercise specialist helping corporate clients to improve their cardiovascular health through exercise.  
Over the last 9 years Harry has been able to move the health care model into what is known today as functional health.  Harry's passion for Pilates has been about merging the principles of Pilates with physical therapy to bring about symmetry between your mind and body. 
As a performance coach Harry is able to help clients to understand that it takes more than exercise to build a better version of yourself.  "Wellness is an expression of good physical and mental health working in balance with proper rest/recovery."  "One cannot perform if they choose not to reform ~ their mind, body, and soul." 
In his spare time Harry enjoys running 5Ks, 10Ks, and ½ marathons and catching a rugby match or two.
Sandra has practiced as a Physical Therapist in Spain, Belgium and Australia. As a fully certified Pilates Instructor, she has utilized the method in clinical practice in a variety of patients including pregnant women, integrating it with a functional approach for rehabilitation and physical conditioning. Sandra has a particular expertise in the management of long-term recurrent injury presentations, hypermobility and improving overall physical competency and performance.

Personally passionate about sports, fitness and well-being, Sandra has closely studied the trends in health and fitness over the last years. Having completed dry needling and kinesio taping courses, Sandra now integrates these methods in her day to day practice.

She sees movement as integral to health and wellness and is committed to help people improve their quality of life and performance. She believes that great manual therapy and active rehabilitation are critical for long-term resolution, and that true success is achieved with lifestyle and habit changes, coupled with consistent intelligent exercise. Sandra will ensure that program delivery execution is both safe and effective.

When not at work, Sandra enjoys travelling and being active outdoors. If not cycling, swimming or surfing she can usually be found experimenting in the kitchen. Also, basketball is one of her passions. Sandra has been playing basketball over 20 years and after playing in a semi-professional league in Spain, she just enjoys mixed and women' social competitions now.
Balanced Body Reformer
Balanced Body Tower / Cadillac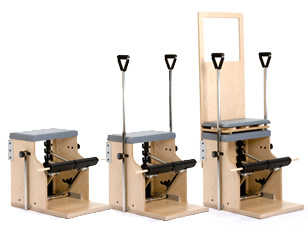 Balanced Body High and Wunda Chair
Bands, Mats, and more!